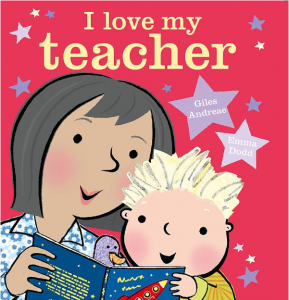 If your little one is starting school or nursery in September then you will no doubt be on the look out for books which will help ease the transition. This lovely story from Giles Andreae and Emma Dodd is perfect for calming any first day nerves which they may have.
The main character loves his teacher and is very excited to lead you through all of the things you can expect from your first day at school. We see him arrive, greet his teacher and cheerily say goodbye to his Mummy. He hangs up his coat on a peg with his name on it, finds his friends and then shows you all the cool things you get to do in the classroom, like learning letters and numbers, doing show and tell, painting singing and story time. His beloved teacher features throughout – guiding, helping and praising the children in her care.
The gentle, sing-song rhyme adds to the sense of fun which emanates from the pages. It will help your child understand that they will enjoy this new chapter in their lives. The illustrations are bright and bold, and Ivy loves the large smiling faces of the diverse group of children in the class.
This is the perfect introduction to the school day and would also make a lovely gift for a nursery or reception teacher!
Buy it now: https://amzn.to/30t2kmO
Disclosure: The publisher provided us with a copy of this book in exchange for an honest review.