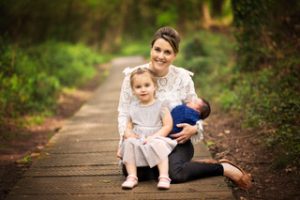 Tell us a little bit about yourself and your family
Hi!  I'm Danni and I live in Hampshire with my husband and our two children.  Zara is a busy 2 year old and Ashton is just about to turn 4 months.  I'm sure the time goes even quicker the second time round!
I run ZaZa's Storybox which provides a convenient, fun way for families to get more books into their homes and inspire their little ones to love reading, setting the foundations for their development.  I am passionate about getting more families to understand the importance of reading to their littles ones from day one.  Babies develop so quickly, from the moment they are born they are developing skills they will need to read and write.    
My daughter and her love of books is the inspiration for ZaZa's Storybox.  Reading to her has helped her imagination develop, encouraged two-way communication, taught her to listen and respond, and set the foundations for her future development.
What are your children's favourite books?
My daughters 'book of the moment' is Mr Panda's Feelings by Steve Antony because she can recite the whole book which she is very proud of and is super cute for us to listen to!  I love this book too because it teaches her about different emotions.  It is important for little ones to learn about emotions to develop their social skills.
My son loves the books that are in our Newborn Storybox – full of contrasting black and white images for him to focus on and gurgle at.  The art cards included are a big hit and perfect for tummy time too.  We have introduced him to touch and feel books too, the 'That's not my' collection are great and my daughter even reads these to him!
Which book do you most like reading to them?
This is a difficult question, there are so many to choose from!  One of the very first books I read to my daughter was Guess How Much I Love You by Sam McBratney so I enjoy reading that one as it brings back memories of when she was tiny.  We continue to read it together now.
The words are simple and it shows you how many ways you can say 'I Love You.'  Every night we say 'I Love you to the moon and back' to each other which is very sweet.
What was your favourite book when you were a child?
I was a huge Beatrix Potter fan so all of those books were on my bookshelf, but I have fond memories of reading both the Enid Blyton and Roald Dahl books.
What would you like to see more of in kids' books today?
I saw a post on Instagram the other day about seeing breastfeeding in children's books.  It isn't something that had crossed my mind before, but as it was National Breastfeeding Week it made for an interesting read.  There are very few children's books that illustrate breastfeeding, and I would like to see more of this in a society where we are working hard to normalise breastfeeding.
Do you have a favourite children's bookshop? 
ZaZa's Storybox of course 😉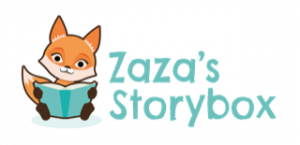 About ZaZa's Storybox
ZaZa's Storybox aims to inspire more families to read to their little ones with their Storyboxes for babies and toddlers.  Available as one-off gifts or on a subscription basis, they feature reading tips, durable books to withstand busy little hands, and toys from reputable brands to complement the themed Storybox. 
Visit www.zazastorybox.com to find out more or find them on social media, www.instagram.com/zazastorybox