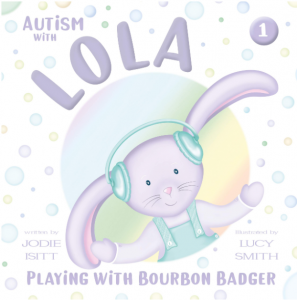 Lola the rabbit loves her art lessons at school. The splashing and sploshing of paint completely consumes her, until the bell rings for playtime and her happiness comes crashing down.
Lola is autistic and has a demand avoidant profile. This means she does not like loud noises or being told to stop an activity without any warning. As the children crash and bang around Lola becomes increasingly distressed.
Outside in the playground her discomfort continues. She doesn't know how to join in with the other children and is scared of being rejected if she does something wrong.
But then everything changes when a friend appears. Bourbon Badger understands that Lola needs some extra care and attention in order for her to feel comfortable. He brings her some ear defenders to drown out the loud noises in the playground then suggests they play a game with some crayons. They arrange them in order by colour and then count them. They play a spinning game and Lola smiles so much because she knows she has found a friend.
I love this heartwarming book for so many reasons. It explains how Lola experiences the world in a way that is really easy for small children to understand. Bourbon Badger is a fantastic role model, displaying empathy and kindness for his friend when she needs him.
This is a story which deserves a spot in every primary school library. It will help primary age children better understand autism and equally will help neurodiverse children feel more accepted and considered in their school environment.
The book was written by a mum of three autistic children and there's a really useful section at the back full of helpful advice and discussion topics from other experts, including an occupational therapist and a speech pathologist.
Buy it now: https://autismwithlovepublishing.com/shop/
Disclosure: The author provided me with a copy of this book in exchange for an honest review.