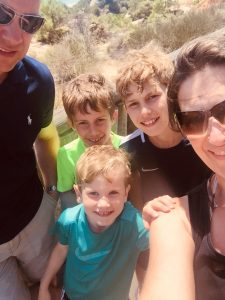 Tell us a little bit about yourself and your family
I'm Jo and I have three boys, Ollie 12, Sam 9 and Matthew 6. I am married to Nick, who I met at University and after lots of years living in South London we decided to make the move to Surrey 3 years ago.  In November 2018 with my good friend Lynsey, I launched an online children's clothing company called Mini Motto Clothing.
What are your sons' favourite books?
For years Matthew has loved You Choose by Pippa Goodhart and illustrated by Nick Sharratt.  The book is full of amazing illustrations with only a few words.  It is very interactive as it introduces the concept of choices to children.  It has been amazing to see the change in Matthew's responses over time.  At the beginning he would just make a choice but over time, he began to explain the reasons for his choices and then started making stories around the choices.