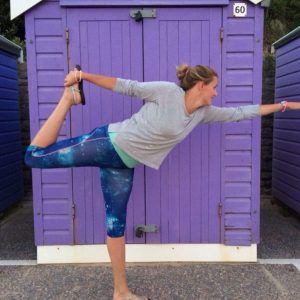 Hi Gemma! Tell us a little bit about yourself and what you do
I am a Montessori Directress working at 'Kids Love Nature' Kindergarten, where we follow Forest school, Montessori and Reggio Emilio ethos. The nursery is located within a country park. I also teach Children's Yoga every Saturday morning. I teach Yoga to children from 3 years – 9 years old.
How do you incorporate books in to your children's yoga classes?
I love hunting for good children's books in charity shops and at the library. I choose books that have animals or a nature theme as I am very much in to the outdoors. With my younger class I tell the story and we do poses which are relevant – for example with Dear Zoo we do elephant, frog and snake poses. The children often have read the book already or I choose what I think is a new book. Today I choose 'The Old Lady That Swallowed the Sea'. The children had all read 'The Old Lady That Swallowed A Fly', but not this one.