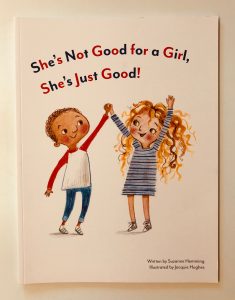 The star of this story is a little girl called Florence who shows promise at all things sporty from a very young age. Spotting her potential, her father nurtures her abilities and together they have lots of fun practising running and throwing.
However when Florence starts school she is immediately faced with prejudice. A little boy called Frank tells her that girls are rubbish at sport and that boys are better and stronger. He tells everyone that it must be true because this is what his dad says.
Enraged, Florence challenges Frank to a race after school. Can Florence prove that boys and girls are equal or will Frank's outdated opinions win the day?
This is an empowering book about gender equality with something for both girls and boys to enjoy. The intelligent rhyme is coupled with gorgeous illustrations (by Jacquie Hughes)and the message is one that I wish we saw more of in children's literature today. Girls are strong enough and smart enough to look after themselves!
The book itself also has a fascinating back story which ties in nicely with the central themes of Florence's tale. When mum Suzanne Hemming started to look for bedtime stories for her daughter, she was amazed at the outdated messages which appeared again and again. Everywhere she turned there were stories of princesses who needed rescuing and brave knights who stepped in to save the day. Determined to do something about it, Suzanne wrote her own book for her daughter then set up a publishing company so she could share it with others. Thea Chops Books champions stories about diversity, unity and equality which reflect the world in which our children live.
Buy it now: https://theachopsbooks.com/product/shes-not-good-for-a-girl-shes-just-good/