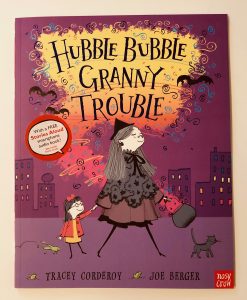 Since discovering the joy that is Tracey Corderoy, Ivy and I have been on a mission to read all of her books. We have devoured all of the Shifty McGifty picture books and now we are loving this Hubble Bubble series about a very unusual grandparent.
The little girl in the story wants to tel us all about her Granny, who happens to be a little bit different. She dresses all in black, has a pointy hat, keeps frogs and bats as pets and the food she serves is extremely unconventional! She loves her granny but sometimes she wishes she could be a little bit more like the kind of grannies her friends have.
She suggests to her Granny that it might be fun to have a makeover day together and she sets about making little changes which she thinks will make her more 'normal'. They knit some hats together, travel in to town by bus (rather than broomstick!), buy some new clothes and get their hair done. By the time they are finished, her Granny looks just like all the other grannies in the street.
Everything is exactly how she wanted it, but she can't help but notice that her Granny seems a little sad and suddenly doesn't really feel like her Granny at all. What should she do now?
The strong rhyming structure is perfect for a bedtime read and the message is loud and clear. It shows children that you should always be yourself, even when society tries to tell you otherwise.
There's lots and lots of detail in the illustrations and Ivy loves to pick out all of the things which interest her (including a burping bat and some frogs in a bucket dangling off a broomstick!)
Buy from Bookshop.org and support independent bookshops: https://uk.bookshop.org/a/155/9780857630285
Buy from Amazon UK: https://amzn.to/2Bh5AaL
Note these are affiliate links and Ivy's Library will receive a small commission if you choose to purchase through them.