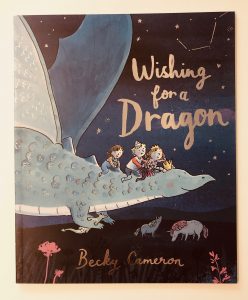 It's almost time for bed but Olive, Barney and Ella aren't ready just yet. They want to go on one last adventure before they fall asleep! Olive wants to go to the jungle, whilst Barney wants to head out in search of treasure. And Ella? Well she would secretly really like to see a dragon.
The three friends hop in to a giant hot air balloon which has magically appeared outside their window and then whoooosh, they're off!
Their first stop is a pirate ship which they eagerly explore, but their time is cut short when the crew decide they don't want to share their treasure. Next they float down in to the jungle but a hungry tiger makes them a little nervous about staying. This adventure really isn't working out as planned and poor Ella still hasn't see a dragon! 
Soon they find their balloon floating in to a storm and the trio become scared. An unexpected crash landing sees them enter a magical land of unicorns and pixies – might this be the kind of place where dragons roam?
We love this story which explores the power of a child's imagination. Becky Cameron's illustrations are captivating, as evidenced by the fact it took me over 30 minutes to read this to Ivy when it first arrived! There's so much detail that she wanted to stay on each page forever and discuss what she could see! She particularly likes to watch out for the little fox carrying three tiny pixies on his back towards the end of the story.
Buy from Bookshop.org and support independent bookshops: https://uk.bookshop.org/a/155/9781444936230
Buy from Amazon UK: https://amzn.to/2I4aQnY
Note these are affiliate links and Ivy's Library will receive a small commission if you choose to purchase through them.
Disclosure: The publisher provided us with a copy of this book in exchange for an honest review