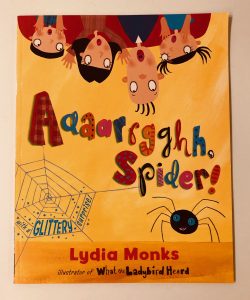 The little spider in this book is very lonely – all he wants is a family of his own. So the enterprising little fellow finds a family he likes and sets about trying to become their pet. The problem is that they're all scared of spiders!
He tries to impress them with his dancing, he shows them how nice and clean  he is by hanging out in the bath and he builds a web and catches flies to prove he's self-sufficient and can feed himself. However every time they seem him they yell 'Aaaarrgghh! Spider!' and throw him back outside.
Feeling defeated, the poor lonely spider decides to set up house in their garden instead and builds himself a giant sparkly web. Will this be the final straw for the family or will they see the spider as a potential pet after all?
Ivy finds this story hilarious and we spend ages poring over the gorgeous illustrations. The repetition within the text means that she can anticipate what's coming next and loves to yell 'Out. You. Go!' at the poor Spider when he's being put back outside. The double page spread featuring a big sparkly web (that you can trace with your fingers) is definitely the highlight though and it takes her breath away every time we read it!
Buy from Bookshop.org and support independent bookshops: https://uk.bookshop.org/a/155/9781405210447
Buy from Amazon UK: https://amzn.to/2DQ8dB0
Note these are affiliate links and Ivy's Library will receive a small commission if you choose to purchase through them.