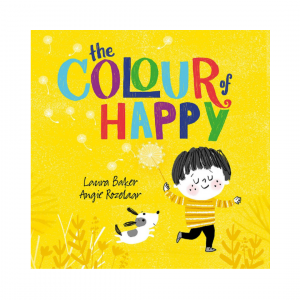 This beautifully illustrated story is a lovely addition to our growing collection of books about emotions.
We follow a small boy as he experiences a range of emotions during a short walk with his dog. He starts off calm and then quickly becomes happy when he spots a dandelion stalk which would make a lovely present for his mum.
With a hop, skip and a jump he plucks it from the ground but then experiences sadness as the wind pulls it from his hand and it floats away. Anger ensues, followed by envy when he spots a little girl holding a stalk which he covets. His interaction with the girl teaches him about the importance of sharing before hope, pride and love carry him home with his gift.
Each double page spread features a different emotion and each emotion is represented by a colour to make it easy for small children to understand. Ivy loves trying to guess each emotion from the expression on the little boy's face each time we turn the page and always gives a loud cheer when the tiny treasure is successfully delivered at the end.
This simple but effective story is a great conversation starter which will appeal to both parents and toddlers alike.
Buy from Bookshop.org and support independent bookshops: https://uk.bookshop.org/a/155/9781444939682
Buy from Amazon UK: https://amzn.to/2UPJ2ZH
Note these are affiliate links and Ivy's Library will receive a small commission if you choose to purchase through them.