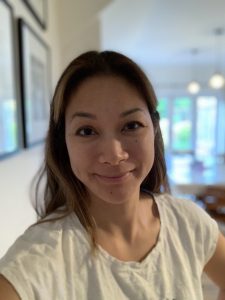 Tell us a little bit about yourself and your family
Hello! My name is Marisa and I live in Wimbledon, London with my husband Jonathan and our 3 children Madison, Finlay and Felix (aged 6, almost 4 and 2). I also run Milk & Mustard, designing wall art prints for children and the home.
We had been quite rigorous about reading before bed with the older two, but it was hard to retain the same kind of focus once Felix arrived as bedtime was total chaos for a while. However it is easier now Madison can read to both herself and her brothers, which she loves doing!
What are your children's favourite books?
Madison is quite into non-fiction at the moment. She is reading the Frozen Planet (the book that accompanied the BBC series) which is a bit unusual for a bedtime book. The photos are stunning though. She does struggle with some of the words but it is great to see her so interested in the natural world in this time of climate emergency.
Finlay and Felix are both into fire engines and dinosaurs so they love Goodnight Fire Engines by Adam Gamble & Mark Jasper, which works well as a bedtime book and naming all the colours of the vehicles in the book, as well as Stomp, Dinosaur, Stomp by Margaret Mayo & Alex Ayliffe which invariably results in much crashing around as they stomp, hunt and whack along to the rhythm of the words.
Which book do you most like reading to them?
I love reading Good Night Stories for Rebel Girls, partly because of the strong ladies whose stories it contains which I think is great for all of them to hear, and also because it means I learn something about an interesting woman every time I open that book too!
What was your favourite book when you were a child?
I loved books and reading – it feels impossible to just choose one… The Wind in the Willows was such an all-time favourite for cosiness and laughter when I was much younger, as well as the Narnia books by C.S. Lewis when I was a little older. That series felt like such an escape from the normal world, and I still love escaping into a good piece of fiction nowadays.
Which character in children's literature do you think is the best role model for kids?
I think Anne of Green Gables was a fabulous character – very imaginative, hardworking and  somehow ending up in lots of scrapes, but ultimately always true to herself.
What would you like to see more of in kids' books today?
I'd love to see more of a mixed ethnicity in the characters. With our children being bi-racial it's something I became more aware of as we started back reading some of the childhood classics. There's definitely more range of characters from different backgrounds out there now, but I still think there's more to be done in this arena.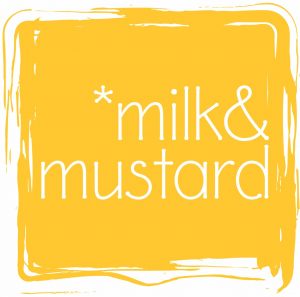 About Milk & Mustard
The name Milk & Mustard was originated by my daughter's allergies – I wanted to turn something she couldn't have into something to celebrate.
My mission for Milk & Mustard is to inspire children to believe in themselves and explore the world, so almost all prints I offer are geared towards that, often using wordplay and quotes.
I really believe in the power of the written word and if children can read inspirational words on their wall every day, or have it read to them, those words will form part of the fabric of their self-belief. I also do personalised prints using the customers' own photographs, which are great ways to mark milestones of their early years and individuality.
www.instagram.com/milkandmustardtoo/