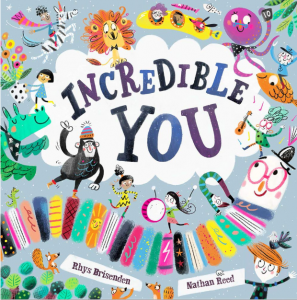 Have you ever had a bad day and wished that you were someone else?
This magical book takes a look at what it might be like to fly away from your troubles like a bird, bark out your anger like a dog in the park or just curl up and sleep like a cat. These are all very attractive options when you're feeling a little down, but do you know what's best? Being YOU, because YOU are INCREDIBLE.
The lyrical and exuberant rhyme whisks us off on a tour of all the wonderful things you can do – like sing songs, build things, dance, draw and touch your nose with your toe! It celebrates individuality and is fantastic for building self esteem in small children.
Nathan Reed's vivid (and quite trippy!) illustrations lift the words right off the page and offer so much opportunity for discussion. The detail is fantastic and we spot something new each time we read it.
I cannot recommend this book enough!
Buy from Bookshop.org and support independent bookshops: https://uk.bookshop.org/a/155/9781849766265
Buy from Amazon UK: https://amzn.to/2Ku2NRY
Note these are affiliate links and Ivy's Library will receive a small commission if you choose to purchase through them.