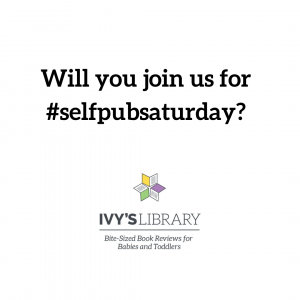 My mission for Ivy's Library has always been to share with you the books which Ivy and I love. These are the books which we are excited to read and that we hope you will be too!
But this doesn't always mean the bestsellers and the books which line the shelves at your favourite bookshops.
Sometimes our favourite books are ones with little marketing budgets, which means if we don't shout about them then you might not ever know they exist!
We review a lot of books which are self-published or which come from small indie publishers – like Sojo & Mouse, Thea Chops Books, Owlet Press, Freya's Funny Feeling, Glitter The Unicorn and Lucy's Blue Day – and there are some truly fantastic ones out there.
So from today I am formalising this and introducing #selfpubsaturday! Every Saturday I commit to reviewing a book which is not from a large scale publisher and i'd love you to get involved.
How?
* Know an author with great books who you think deserves some recognition? Tag them below
* Share your favourite self-published books with us by mentioning them below or tagging us on instagram using #selfpubsaturday
And if you're a self-published or aspiring author then make sure you say hi!
Let's give these books the recognition they deserve <3