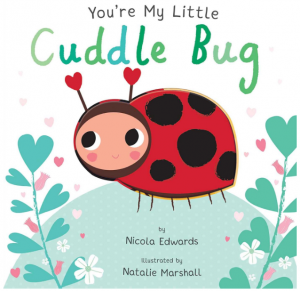 This adorable board book is perfect for a snuggly read before bed. The chunky pages are designed for very small children but Ivy is three and a half and still loves it!
The gentle rhyme celebrates the special bond between parent and child, as we see ladybirds, bumblebees, caterpillars and butterflies cuddle up with their nearest and dearest. I love the choice of language used to describe how the baby bugs make the parent feel.  We have even adopted the phrase 'You tickly pickle' because Ivy thought it was hilarious!
The pages feature cutouts and raised sections to keep little hands busy and the durable format should foil even the most determined book chewers!
This would make a fantastic gift for a baby and will appeal well in to the toddler years. Highly recommended!
Buy it now: https://amzn.to/2Y6JLaG