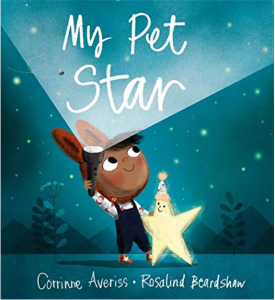 As parents we naturally want to shield our children from sadness but it's an important topic to touch on if we want to raise resilient future adults. There are now lots of titles on the market which feature loss or difficult goodbyes, but all too often we only seek them out in times of need. This beautiful book from Corrinne Averiss is an excellent addition to a child's bookshelf as it gently weaves the subject in to a wonderful bedtime story.
A little girl finds a fallen star and gently nurses him back to health. She cleans him, feeds him and takes the time to learn all about her new friend. When he starts to get better she wants him to play but understands that he is a little different to her. He sleeps in the day and isn't interested in toys but they soon find ways to just enjoy each others company.
When the star begins to shine brightly, the girl knows that it is time for him to leave her and return to the sky. But how can she ever let him go when they have become such close friends?
This is a gorgeous tale of kindness and empathy which shows the importance of knowing when to let go. The gentle rhyme is perfect for a bedtime read and we love the warm illustrations from Rosalind Beardshaw.
The first time we read it, Ivy was really sad that the star had to go home but it opened up conversations about how you need to be aware that what is best for you might not be best for someone else.  Now she loves the part where the star returns to the sky (and absolutely loves the tiny detail that the star wears a bobble hat whilst he convalesces!)
Buy from Bookshop.org and support independent bookshops: https://uk.bookshop.org/a/155/9781408353660
Buy from Amazon UK: https://amzn.to/2My6Dub
Note these are affiliate links and Ivy's Library will receive a small commission if you choose to purchase through them.
We were lucky enough to be part of the fabulous blog tour for this book, organised by Hachette Children's Group. Click here to read an exclusive piece from author Corrinne Averiss in which she talks about her favourite books which feature goodbyes.
Disclosure: The publisher provided us with a copy of this book in exchange for an honest review