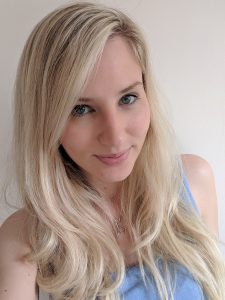 Tell us a little bit about yourself and your family
Hello! I'm Daisy and I'm a freelance social media manager. I live with my husband, Chris and our one year old daughter Florence. We live in Lincoln after moving up here from London last year and are really enjoying the change.
What is your daughter's favourite book?
It has to be Dear Zoo by Rod Campbell. She's loved it since she was around 7 months old and still gets excited when we read it together. It's starting to get a little worse for wear! It is a lift-the-flap book with animals hidden underneath and has been a children's classic since 1982. She loves lifting the flaps and there is a great rhythm to the story which makes it almost musical to read.
Which book do you most like reading to her?
I love Each Peach Pear Plum by Janet and Allan Ahlberg. It is a beautifully illustrated picture book which I remember reading when I was young, and is probably why I feel so attached to it. It's got a lovely familiar rhyme and is a book which can be enjoyed at many ages. At the moment, Florence is only one but she still likes looking at the pictures. When she's older I'm looking forward to asking her questions about the illustrations on each page as there is so much in each picture that you can explore with them.
What was your favourite book when you were a child?
The book that first springs to mind is The Magic Faraway Tree by Enid Blyton. I love how a book can transport you into a whole other world and this book did that completely. The different lands were so exciting and truly magical. I never wanted the book to finish!
Who is your favourite children's author?
Roald Dahl. I've read most of his books numerous times and find them so wonderful and just as enjoyable to read as an adult! The language he uses is brilliant, and so playful. His books are a real treat to read.
About Daisy Cartlidge Brown
I am a freelance social media manager and focus my services on helping small business owners build an authentic social media presence. I offer a range of services, from hashtag research to full social media management. My website can be found at www.daisycartlidgebrown.com.