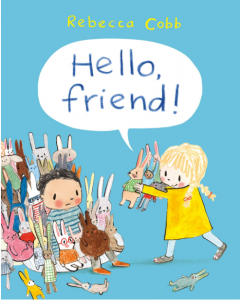 If your child has recently started nursery, pre-school or reception then they're inevitably in the process of navigating new friendships. This beautifully-illustrated book by Rebecca Cobb follows a child's journey to securing a new friend.
The main character in this story is an extremely enthusiastic little girl who very much wants to be buddies with a boy in her class. She loves spending time with him and she tells us about all the things they do together. They play, build towers, share lunch, draw pictures, play music and dance. We see her smiling and practically bouncing with excitement about the special time they share.
Look closely though and we see that the little boy doesn't seem quite so sure. He appears reluctant to join in the games and his facial expressions and demeanour suggest that he is shy and perhaps new to the class. The girl's optimism wins him over though and we see them become firm friends.
On the surface this seems like a really simple story but the way in which the pictures and text work together make it a great tool for talking about worries.
If you focus on the text then you see a confident girl who has learned how to make friends. She knows that she could potentially be rejected but that the reward of a new friend is worth it. She seems to understand that the boy is shy and just needs some help to come out of his shell.
If you focus on the illustrations you see a little boy who is worried about making friends and fitting in. However he is just brave enough to accept the hand which is reached out to him and great things ensue.
Mix the two elements together and the story subtly helps your child understand the dynamics of making friends, regardless of which type of personality they have.
Rebecca Cobb is a master illustrator and you can see the personality of each child shine through in their facial expressions. Ivy and I like to play a game where we look at each person in the book and she tells me if they are happy or sad and then looks for clues as to why. Her personal favourite is a little girl in a blue coat on the football field who looks like she's giving the game a mini thumbs up!
Buy from Bookshop.org and support independent bookshops: https://uk.bookshop.org/a/155/9781447250524
Buy from Amazon UK: https://amzn.to/33OdYdI
Note these are affiliate links and Ivy's Library will receive a small commission if you choose to purchase through them.
Want to see more books by Rebecca Cobb? Click here