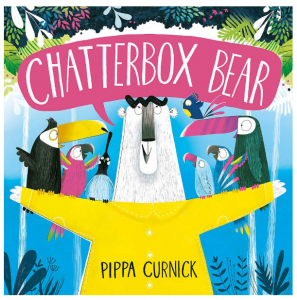 Gary the bear loves to chat. He chats at the supermarket, he chats in the library and he even chats in the bath! The trouble is, he's giving all the other bears a headache with his incessant 'Raar-ing'.
The chatterbox bear decides to set off on an adventure to find some animals who like to talk as much as he does. He sets sail on a boat and eventually he finds himself on an island surrounded by chatty birds. However they all speak Bird and can't understand Bear.
They try to make sense of all Gary's 'Raars' but they are baffled by the noises he makes. Why can't he just Squawk like they do?
But then one of the birds spots Gary's very expressive eyebrows. Could this be a form of communication they can all learn together?
This brightly-coloured book is one of our favourites on the topic of friendship. It teaches children to embrace diversity, to go the extra mile when making friends and to always make an effort to include others.
Ivy had great fun trying to learn 'eyebrow language' and the little twist at the end had her laughing out loud.
Buy from Bookshop.org and support independent bookshops: https://uk.bookshop.org/a/155/9781444944129
Buy from Amazon UK: https://amzn.to/3c4epFx
Note these are affiliate links and Ivy's Library will receive a small commission if you choose to purchase through them.
Disclosure: The publisher provided us with a copy of this book in exchange for an honest review