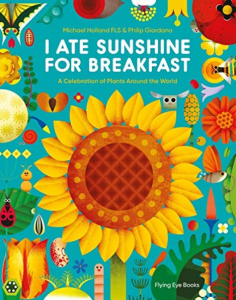 Ivy and I have spent all afternoon in the garden so this feels like a very appropriate choice for today! This beautiful non-fiction book celebrates plants from around the world and it has taught us lots of fascinating facts.
Split in to four chunky chapters, this illustrated compendium looks at all aspects of plant life. In the early sections we learn everything a child could possibly need to know about what plants are, how they grow and why they matter. But it was the second half of the book which completely captured Ivy's imagination, as here we discover how plants sustain our everyday lives. She was amazed to discover there were plants in her toothpaste, in her clothes and even in her medicine!
As an added bonus there are 12 DIY projects included. We're planning to try them all over the coming months but I think we'll start by making a plant maze and and a wild weed bottle garden. The invisible ink project looks fun too!
Visually the book is stunning so it's definitely going to take pride of place on our shelves over the summer. The illustrations are glorious, the cover is beautifully textured and the pages are thick and luxurious. It would certainly make a fantastic gift for a budding botanist!
The recommended age is 7+ because it's packed full of information, however younger children like Ivy (who is 4.5) will be drawn in by the pictures, the projects and the accessible format.
Buy from Bookshop.org and support independent bookshops: https://uk.bookshop.org/a/155/9781911171188
Buy from Amazon UK: https://amzn.to/34cfDeg
Note these are affiliate links and Ivy's Library will receive a small commission if you choose to purchase through them.
Disclosure: The publisher provided us with a copy of this book in exchange for an honest review.