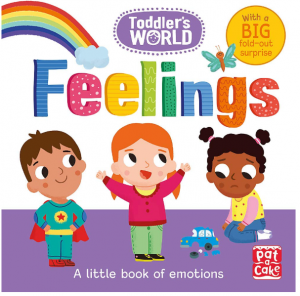 This chunky board book from Pat-A-Cake is an ideal introduction to feelings for little ones. It teaches small children what it means to be happy, sad, brave, angry, scared or jealous.
Each double page spread is dedicated to a specific emotion. The illustrations and text show us multiple different scenarios which might make you feel this way, so for example you might feel angry when you are tired, when someone is mean to you or when you want something which you can't have. It then offers practical suggestions to help you overcome the emotion (where relevant) and reassurances that your feelings are perfectly normal. Each page asks the child to recall a time they felt this way and to talk about it with an adult when the emotion feels too big to handle.
At the back of the book there's a lovely fold-out page featuring lots of different faces. Children can then use what they have learned to guess which emotion each face is showing. Ivy loves playing this game!
This is a really well thought out book which will boost empathy and help kids understand and verbalise how they feel. I'd recommend it for children aged 18 months +.
Buy it now: https://amzn.to/2XtMQiq
Disclosure: The publisher provided us with a copy of this book in exchange for an honest review.
For more books about emotions and feelings visit https://ivyslibrary.com/topics/emotions/