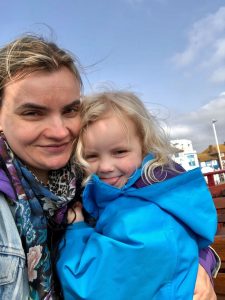 Tell us a little bit about yourself and your family
Hello! I'm Alice and I run Tiny Treat Boutique with my sister Caroline. I live Hastings and I have a daughter aged 4.
What is your daughter's favourite book?
We love reading 'Diary of a Wombat' by Jackie French. It's about a wombat and his struggles with his humans. It is very funny and has a great rhythm, which we can take turns reading and reciting.
She is also a big fan of Don't Put Your Finger in the Jelly, Nelly! There's a hole on every page for her to poke her finger through and upset the monster on the other side.
Which book do you most like reading to her?
I love reading The Girls by Lauren Ace. It's about four girls who grow up together supporting each other and leading very different but equally interesting lives. It's an early introduction to the idea that things don't always turn out as you expect but that having supportive friends is invaluable in coping with it, all expressed in a very gentle way.
What was your favourite book when you were a child?
My absolute favourites were always Topsy and Tim. Reading them again as an adult with my daughter, I can see why my Dad liked reading them with me. The parents are much more realistic than the TV show!
When I wasn't terrified of it, I loved Outside Over There by Maurice Sendak. It's beautifully and spookily illustrated and has such an atmosphere. It apparently inspired the film Labyrinth, which you can feel when you read it.
I also loved Milly Molly Mandy, partly because of the map of the village and partly for her stripy dress and adventures based around jam, friends and fields!
Oh, and The Owl Who Was Afraid of the Dark! I could go on for hours answering this question.
Who is your favourite children's author?                   
Janet and Allan Ahlberg, every book they've written is divine. From Each Peach Pear Plum to the Happy Families (especially Mrs Plug the Plumber!) and The Jolly Postman. They just keep on giving.
And your favourite illustrator?
I love Jan Pienkowski, of Meg and Mog fame! His Haunted House book was a favourite in our house growing up and is loved by our children now. I think he has the perfect mix of atmospheric images and space for imagination to fill the gaps.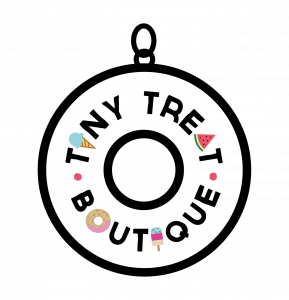 About Tiny Treat Boutique
Tiny Treat Boutique is about miniature charms with maximum charm! We create miniature faux food jewellery and craft kits to make your own. Tiny pizzas, donuts, watermelons, sushi and lots more! We also run parties and workshops and take commissions for bespoke miniatures such as wedding cakes and decorations.
Website: https://tinytreatboutique.com/
Facebook: @tinytreatboutique | Instagram: @tinytreatboutique