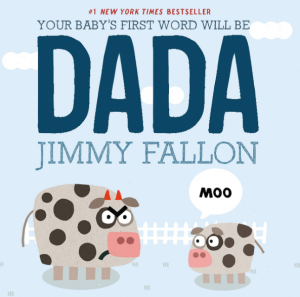 Ivy is 4 now but I can clearly remember the days when we were eagerly anticipating her first word. Would it be Mama, Dada or something else entirely? If this sounds familar, then you're probably going to like this hilarious book from American comedian Jimmy Fallon.
The story follows a range of farmyard fathers as they try to get their children to say 'Dada'. Naturally it doesn't quite go as planned! As the dads say 'Dada' over and over again, the babies all insist on responding with their respective animal sounds.
This is a book of few words – in fact, until you get to the end of the book there's only one word per page!
It's simple but really effective and has lots to offer both toddlers and pre-schoolers. It's an ideal resource for teaching little ones different animal sounds and for slightly older children it offers a chance to for them to try some reading of their own. Ivy can now read 90% of the book herself because of the short words and repetition. As a result she's really proud of herself and it's encouraged her to have a go at identifying short words in other stories too!
Buy it now:  https://amzn.to/2N3IwBK
Disclosure: The publisher provided us with a copy of this book in exchange for an honest review.