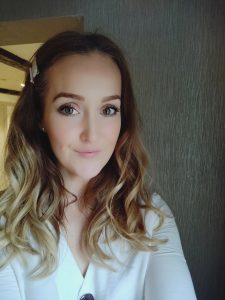 Tell us a little bit about yourself and your family
Hi, I am Rachel! I am the owner of Ivy White, a luxury stationery and design studio. I am a graphic designer specialising on branding for small businesses and creating beautiful wedding stationery. I absolutely love my job! Having a home business is also great as it allows me to be with my little ones more.
I live in Windsor with my husband and our two children, Eva who is 4 and a half (the half is very important!) and Leo who is 2 and a half.
What are your children's favourite books?
Eva loves so many books its hard to choose. She adores fairy tale stories, any princess falling in love with a prince and living happily ever after is right up Eva's street. One book she does always go back to that isn't a Disney tale is Room On The Broom by Julia Donaldson and Axel Scheffler. It's a funny, rhyming story of quick wits and friendship. It starts with the witch and her cat flying happily around on their broomstick until strong winds hit, leading them to make new friends along the way and a dragon!
Leo loves SuperTato – Veggies in the Valley of Doom! by Sue Hendra & Paul Linnet. It's full of colourful pictures and super hero veg! It's a great book to read… it's just a shame it doesn't get him eating his veg still! (eye roll!)
Which book do you most like reading to them?
I love to read The Scarecrows' Wedding by Julia Donaldson and Axel Scheffler. It must be down to the industry I work in! Plus I love a romance! Two scarecrows, Betty O'Barley and Harry O'Hay, are planning the perfect wedding. But wicked scarecrow, Reginald Rake, has other ideas and almost ruins their special day. Harry must become a hero before he and Betty can have the wedding of their dreams. It's funny, romantic and has a little drama… what more could you want.
Also The Ugly Five by Julia Donaldson and Axel Scheffler (I realise Julia Donaldson and Axel Scheffler seem to be our favourite authors). A funny rhyming story about the top-five ugly animals in Africa! The wildebeest, warthog, vulture, hyena and marabou stork swagger proudly across the savannah, rejoicing in their ugliness – and delighting their babies, who think they're perfect just the way they are. I love the message that beauty is in the eye of the beholder.
Who is your favourite children's author?
Julia Donaldson –  I love the rhyming style she writes. The children also love it because they remember the words and take a lot of pleasure in telling us what is about to come.
What do you look for when shopping for a new book for your child?
Inspiration – We recently bought Eva a new book that is a little old for her at the moment but she is still interested in it. Good Night Stories for Rebel Girls by Elena Favilli and Francesca Cavallo. This is an amazing book full of inspirational, strong women. Eva loves hearing about the amazing doctors, ballerinas and leaders in this book. I would highly recommend this if you have a daughter.
Do you have a favourite children's bookshop? 
We love Waterstones in Windsor. It's our local bookshop and the kids enjoy going to the kid's area and grabbing lots of books off the shelves, sitting at the little tables and flicking through the pages.
We love to take the kids into the book shop, its such a great place and they tend to quieten down when in there which is a nice moment of peace for us! I love that they pick a book that they would like, its part of our day out, a moment they get to shop for themselves. About Ivy White
Ivy White was established by experienced and award winning graphic designer Rachel Notarbartolo.
Offering a wide range of design-based services – from providing brand identities and a full graphic design service for businesses, to designing beautiful wedding stationery.
Experience and adaptability lends itself to everything from bespoke intricate invitations to bold and vibrant graphics for advertisements, brochures or posters. This flexibility of design is mirrored in the flexibility of printing solutions, with letterpress, die-cutting, foils and many more options available. Skillful suppliers are sourced in order to deliver products at top quality.
Facebook: www.facebook.com/ivywhite/
Instagram: www.instagram.com/ivy_white_design