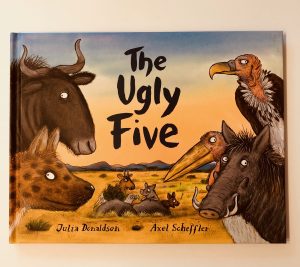 Almost everyone has heard of the Big Five – the largest and most dangerous animals in Africa – but what about the Ugly Five? Julia Donaldson shines the spotlight on this lesser known group in this heartwarming story.
The lappet-faced vulture, the spotted hyena, the wildebeest, the marabou stork and the warthog are not going to win any prizes for their beauty. With their gnarled faces, distinctive odours and questionable table manners, they repel the other animals they meet.
However as they wander the savannah they meet a group who think they are the kindest and most beautiful animals in the world – their babies! Their little ones gather together and highlight all the reasons they think their mummies and daddies are wonderful and it really is quite lovely I may have shed a little tear the first time I read it…
This is a fantastic story which reminds parents and children alike that even at your worst, you are somebody's whole world and to them you will always be beautiful.
Buy it now: https://amzn.to/2qkagqd