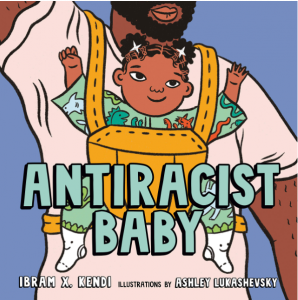 It has always been important to me that we have a diverse bookshelf at home. The books we read feature different races, different religions and different types of families because I want Ivy to grow up knowing that everybody's life is important and valid.
However recent events have taught me that this is not enough. Teaching her to be kind is not enough. Teaching her to be aware of racism is not enough. Unless we actively teach our children to be anti-racist things won't change.
For us, one of the steps in this process has been reading this excellent picture book from Ibram X. Kendi, who is the Director of the Centre for Antiracist Research at Boston University.
With simple rhyming text and vibrant illustrations the story takes you through the 9 steps which we all need to consider if we want to create an equal society. It celebrates differences, encourages you to speak up in support of others and examines why statements like 'I don't see colour' are so problematic. It also counters the common belief that racism is just something that comes from an individual.
It's a book which works on two levels. It's an engaging read for kids but it's also a primer on anti-racism for parents, showing you the conversations you need to have in order to ensure your child grows up to be an ally.
At the back there's a fantastic section for parents and caregivers highlighting questions and discussion points which will help you talk about race with young children in an age-appropriate way.
This is an important book. Get it for your child, get it for yourself, get it for your child's school and get those conversations going as soon as you can.
Buy from Bookshop.org and support independent bookshops: https://uk.bookshop.org/a/155/9780241512388
Buy from Amazon UK: https://amzn.to/3fH8WWL
Note these are affiliate links and Ivy's Library will receive a small commission if you choose to purchase through them.