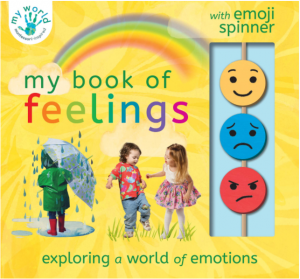 Ivy and I were very excited when this board book landed on our doorstep as it has a built-in emoji spinner! Amusingly, I wasn't allowed to even touch it for the first 15 minutes because Ivy wanted to play with it by herself, twirling the faces and looking at the pictures inside. Definitely the sign of a good read!
The toddler-friendly introduction explains that the expressions on our faces will often change to reflect our mood. By observing these changes we can tell how someone else may be feeling.
The emoji spinner features six faces, each representing a different emotion – happiness, sadness, anger, surprise, calmness and confusion. As we move through the book your child is presented with lots of scenarios and then invited to choose the face which they think best represents how they would feel. How do they feel when it rains? How do they feel when they dance? How about when they eat a tomato?
Every page is filled with real photographs which feature a diverse group of children. Multiple races are represented and we also spotted a child with a hearing aid and a child with Down's Syndrome.
When you reach the end of the book your child will find a mirror reflecting their own face back at them – a great opportunity for you to talk about they are feeling at that moment.
This is a sturdy board book designed to be enjoyed and explored by curious toddlers and it's a great introduction to the world of emotions. The spinner element is so much fun, making it a popular choice in our house over the last few weeks! Note that due to the moving parts this book is only suitable for children aged 3+.
Buy from Bookshop.org and support independent bookshops: https://uk.bookshop.org/a/155/9781838910211
Buy from Amazon UK: https://amzn.to/34kYUaS
Note these are affiliate links and Ivy's Library will receive a small commission if you choose to purchase through them.
Disclosure: The publisher provided us with a copy of this book in exchange for an honest review.