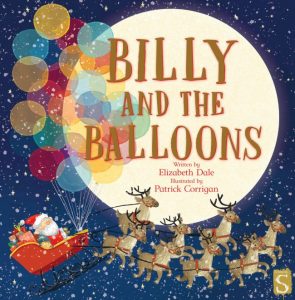 Is it too early to mention Christmas? I'm writing this wearing a big jumper and woolly socks whilst rain hammers at the window so I am declaring it almost winter. 2020 has been utterly rubbish and I think we are all in need of some cheering up, so welcome to my first festive review of the year!
It's Christmas Eve and Billy is watching his dad sell balloons as the last of the shoppers grab gifts for their loved ones. He really wants to help but Billy is quite small and his dad thinks he is far too tiny to hold on to the big bunch of colourful shapes.
Suddenly a powerful gust of wind bounces the balloons up in to the air and out of his dad's hand.  Billy jumps and grabs hold of the strings but he is so small that he is lifted off his feet. His dad grabs on to his ankles but he is lifted up in the air too!
Unexpectedly, Billy and his dad find themselves soaring through the skies. They accidentally snag a cow by the collar and soon they are joined by a farmer and two monkeys from the zoo! They make a spectacular sight as they float like a column in the sky.
Up ahead they spot something red moving very slowly through the clouds. Santa has eaten too many mince pies and his reindeer are struggling to pull him along on his sleigh! One of the monkeys grabs hold of a reindeer and slowly the whole group start to float down to the ground.
Safely on land, Billy and his dad try to help Santa come up with a plan. The balloons could help them travel around the world, but it looks as though Santa's expansive waistline might be a problem for squeezing down chimneys.
Suddenly Billy has an idea. He has always complained about being tiny, but could this possibly be his time to shine?
This is such a fun story and the illustrations are exquisite. Ivy has enjoyed reading it over and over and she particularly likes the fact that one of the pages pulls out so you can see the full extent of the line of people and creatures clinging on under the ballooons!
However it's not just a festive adventure, there's a lovely core message too. You are never too small to make a difference, and Billy's act of kindness in the final pages help children see that everyone is capable of making the world a better place.
But Santa – maybe lay off those mince pies next year, yeah?
Buy it now: https://amzn.to/2EXnYuq
Disclosure: The publisher provided us with a copy of this book in exchange for an honest review.
To read a Q&A with the author, Elizabeth Dale, click here: https://ivyslibrary.com/indexphp/2020/10/02/q-a-elizabeth-dale-author-of-billy-and-the-balloons/