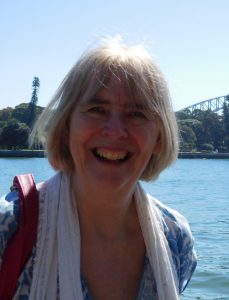 Hi Elizabeth! Can you tell us about yourself in 25 words or less?
I adore writing for children – the best job in the world! I've had 84 books accepted/published and my three daughters are chlldren's authors too.
Your latest book, Billy and The Balloons, is hitting the shelves. Can you tell us how it came to be?
I wanted to write a picture book that would reassure children about something that might bother them, and I think being little is one of those things!  So I hoped to create a book that was fun to read about it being good to be small, and as Christmas is such a magical time, I thought it would be great to set it then, as there would be scope for wonderful pictures, too. However Patrick Corrigan's quite beautiful illustrations have far exceeded what I had imagined .  I also have to thank the animals that tried to help Billy who somehow wrote themselves into the story!
Can you sum up your book in 20 words or less?
On Billy's magical Christmas Eve balloon ride he helps to save Christmas and discovers it's good to be tiny!
Why did you decide to become a children's writer?
I've always loved writing stories, and after having been unsuccessful with my novel for adults – which took SUCH a long time to write – I decided I would always write something shorter in future! So I started writing short stories for magazines. But then, when my daughters were born, I was reminded just how lovely children's books are and decided to try writing them, too, and found that to be the greatest fun of all. I've always loved writing poetry, so writing rhyming picture books is now one of my favourite things to do.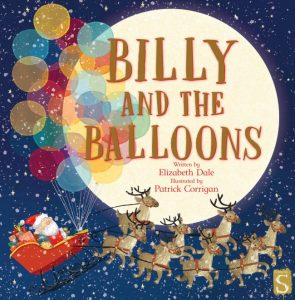 Can you describe where you work and your working day?
I sit by a window overlooking my garden, which can either inspire or distract me! I'm a bit of a workaholic – but simply because I love writing so much. I am usually on my laptop by 7. And then I spend all day doing any work emails, chasing up manuscripts, but most of all writing, whether it's editing or writing something new! And on sunny days I am out in the garden plotting and thinking up ideas. Bliss!
Which children's books have inspired you recently?
'Oi, Frog!' (picture book) by Kes Gray and Jim Field, and other 'Oi' books in the series – I think they're so clever!
'The Princess and the Pea' (picture book) by Jonathan Emmett and Polly Bernatene – very funny fairy tale twist.
'I, Cosmo' (middle grade novel) by Carlie Sorosiak – such a brilliant insight into the mind of a dog.
'A Boy Called Hope' (middle grade novel) by Lara Williamson – another funny insight – this time into the trials of a boy whose father has left home – and turned up on his TV screen.
What makes you happy?
Writing! Getting a book accepted! Time with family, country walks, reading and holidays in the mountains or by the sea. Oh and it's so, so wonderful to see children enjoying reading/listening to my books.
What's your worst habit?
Untidiness! In my writing it's using too many !!!!s (see?!!)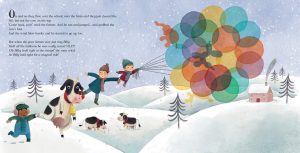 How are you coping with lockdown?
I am so lucky in that writing is a wonderful escape from bad news and that I can work from the safety and comfort of my own home. But I really miss contact with young readers and browsing bookshops. Fortunately I am an optimist – better days are ahead!
What are your top tips for budding writers?
Read books in the genre you wish to write for to get a feel for what different publishers like to publish.
Write what you'd like to read.
Don't worry about getting the words down right, just write away, let the story take you, getting words on the paper/screen is the most important thing to begin with. Then you can go back and…
Edit, edit, edit! Nothing is perfect first time.
Read your work out loud when you've finished writing. Hearing the words spoken really shows you what isn't flowing quite right.
When you've finished a story, put it away for a few weeks, then come back to it with fresh eyes and edit again.
Persevere!  Don't be dejected by rejection or take it personally – rejection could simply mean that you just haven't sent that editor what they're looking for right now. Nothing gets accepted sitting in a drawer. All the best writers get rejected! It's a badge of honour. My mantra is that rejection is an opportunity to send  my work to someone else.
Editors and agents are really busy. If they take time to comment on your work when rejecting it, then you've done really well and it's worth noting what they say.
Being a writer is a fantastic but lonely job and can be a struggle at times. Try to link with fellow writers for mutual support. The Society of Children's Book Writers and Illustrators (SCBWI) is an incredible organization offering workshops and mutual support.
Is there anything that's surprised you about the publishing process?
Yes – how many years it can sometimes take to get from the accepted manuscript to the published book. This wasn't the case with Billy and the Balloons, though, I'm delighted to say.
What do you love writing most of all?
Humour, whether it's rhyming picture books or fiction. I also love it if my books have a subtle inspiring message or tackle a difficult theme in a positive way. Children have so many worries, especially now – it is so rewarding to me if my books can help ease any of those troubles as well as entertain and encourage children to enjoy reading – a wonderful habit that will stay with them all their lives.
To read our review of Elizabeth's latest book – Billy and the Balloons – click here: https://ivyslibrary.com/indexphp/2020/10/02/billy-and-the-balloons-by-elizabeth-dale-patrick-corrigan/
You can find out more about Elizabeth Dale on on her website: http://elizabethdaleuk.blogspot.com/