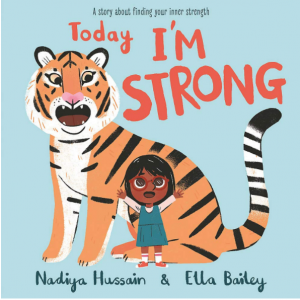 " I love to go to school. Well most days I do. There are some days when what I really want is to stay home with you."
School has always been fun for our little protagonist. She enjoys playing and chatting with her friends, writing about her favourite things and climbing to the very top of the climbing frame in the playground – but lately school has felt like a sad place. Some days she just wants to stay at home with her tiger, because she knows he loves her and will always listen.
You see, there's a kid at school who isn't very nice to her. She stares at her and she laughs. She blocks her way and takes her lunch. This makes the little girl feel powerless and makes her want to run and hide.
Can she learn to channel her inner strength and stand up to her bully?
This is a great story for helping children share their worries and fears.  The main character starts the book in a very timid manner but as she talks through her concerns with her tiger she grows in confidence until she feels able to face up to the child who has been making her sad. Doing so makes her feel strong, capable and more sure sure of her place in the world.
The illustrations are gorgeous and I love the ambiguity of the gentle tiger character. It features on every page in a benevolent manner but its identity is never addressed. It could be a favourite toy or an imaginary friend – however I choose to believe that the tiger is a caring parent who is gently guiding her even when they are not physically there.
Every children's bookshelf should have at least one go-to book which will help when they are lacking in confidence and need some reassurance. I would definitely recommend this touching story by anxiety warrior and Great British Bake Off Champion Nadiya Hussein.
Buy from Bookshop.org and support independent bookshops: https://uk.bookshop.org/a/155/9781444946468
Buy from Amazon UK: https://amzn.to/315AuzA
Note these are affiliate links and Ivy's Library will receive a small commission if you choose to purchase through them.
Disclosure: The publisher provided us with a copy of this book in exchange for an honest review.