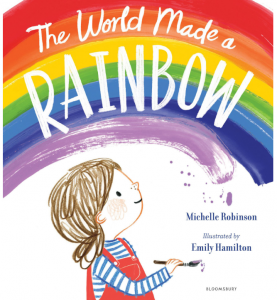 Well that was quite the year! Whilst i'm extremely happy to see the back of 2020,  the realist in me knows that the first few months of 2021 aren't going to be much better. We live in a 'high-risk' area so Ivy won't be returning to school next week as we had originally thought. She's already missing her friends and is having to deal with so much change and uncertainty so i'm really sad for her.
As always, we turn to books in times of turmoil and this beauty by Michelle Robinson and Emily Hamilton is our current favourite. It follows a little girl in lockdown as she processes the fact she can't see her friends and family.
The girl is feeling sad so her mum suggests they work on an art project together. They decide to create a rainbow to display in the window of their house, however the colours and materials trigger memories of the things that she misses. As her emotions threaten to overwhelm her, her parents pull together and turn the situation around.
Whilst they create a beautiful rainbow, they talk of the wonderful adventures they will have together someday soon – trips to the seaside, the city, the forest and the park. They look back at old memory boxes, cut pictures from old magazines and take some family photographs to send to the girl's grandmother. Finally she video calls her best friend Violet and is surprised to discover she's making a rainbow too and is feeling the same mix of emotions!
This is such a lovely story which perfectly encapsulates 2020. It doesn't shy away from the sadness we have all felt but it is filled with hope and light. It's perfect for reassuring little ones that a brighter day is coming and it's also a wonderful keepsake to look back on in years to come.
Buy from Bookshop.org and support independent bookshops: https://uk.bookshop.org/a/155/9781526629807
Buy from Amazon UK: https://amzn.to/3pxxPsu
Note these are affiliate links and Ivy's Library will receive a small commission if you choose to purchase through them.