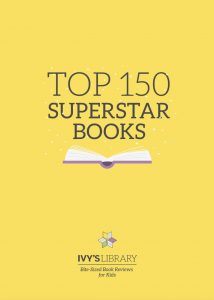 We are officially launching an Ivy's Library newsletter to celebrate our love of children's literature. All subscribers will receive a free 15 page PDF featuring some of our top picks. Squee!
Why are we launching an Ivy's Library newsletter?
We share daily children's book reviews and features on our blog www.ivyslibrary.com and also on Facebook, Instagram and Twitter – but because of the nature of social media you probably aren't seeing all our posts. Subscribing to our newsletter means you won't ever miss out on the good stuff!
What does it entail?
Once a month we will hit up your inbox with a curated selection of children's book reviews, interviews, opinion pieces, special offers and other treats. Some of it will be content we've shared on our social media channels but there will also be extras which are exclusive to newsletter subscribers. The first newsletter will be sent in February and of course you can unsubscribe at any time.
Did you mention a free PDF?
Yes! Behind the scenes we've been working on a super duper PDF which will be sent to you immediately after you've subscribed to the newsletter. We have crunched the numbers to see which reviews have been most popular with the 17,000+ parents, teachers, carers and book lovers who follow us across Instagram and Facebook and pulled all of this information in to one convenient little download just for you.
It's called 'Top 150 Superstar Books' and I am very proud of it so I hope you love it too. The books which made the cut are an eclectic mix which I think accurately represent what this account is all about. The top 5 were particularly poignant as they really brought home to me the kind of year we've just had.
So what are you waiting for? Sign up to our newsletter now – and tell your friends to sign up too!