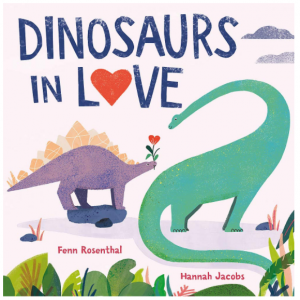 Are you one of the two million people who have listened to tiny Fenn Rosenthal sing 'Dinosaurs in Love' on YouTube? If not then you MUST because it's utterly adorable.
Fenn was just three and a half when she freestyled the song with her Dad, musician Tom Rosenthal, and the results were surprisingly profound. The lyrics have now been made into a picture book and it's fair to say that Ivy is obsessed.
The story gives us a toddler's take on what happened to the dinosaurs, with a little romantic spin. In a nutshell – they eat some people, have a party, fall in love and then die. The end.
To an adult the text will be pretty minimalist but Fenn's words seem to be catnip for kids. We've been reading it on repeat since it arrived!
The lyrics have been beautifully illustrated by Hannah Jacobs and they definitely add depth to the story. We see two different species meet and slowly fall for each other over a series of little dinosaur dates. They go on long walks, splash in waterfalls, give each other flowers and share their favourite foods.  They have been drawn with such warmth that you can see and feel the growing affection they have for each other – which makes it quite emotional when they are wiped out by a cataclysmic event. However in the final pages we see that ultimately nothing can keep them apart.
Super cute and surprisingly tender, this is a great valentines pick for dinosaur-loving little ones.
Buy from Bookshop.org an support independent bookshops: https://uk.bookshop.org/a/155/9781408365069
Buy from Amazon UK: https://amzn.to/3a9W4a0
Note these are affiliate links and Ivy's Library will receive a small commission if you choose to purchase through them.
Disclosure: The publisher provided us with a copy of this book in exchange for an honest review.