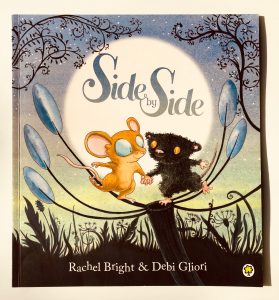 Side by Side is a really sweet book about finding your best friend.
Little Mouseling is the smallest mouse in a large family of mice. She desperately wants a friend of her own but all of her brothers and sisters are so busy running and playing that they forget all about her.
She sets out to find a friend but although she has plenty of offers of friendship she just can't find someone who is the right match. Toad is lovely but she can't swim so can't join in with his games. Squirrel is great fun but Little Mouseling is too scared to climb his big tree.
But just as she thinks she won't ever find a friend a shy little vole appears. Could this be the little buddy she's been searching for?
Buy it now: http://amzn.to/2B8y6Z7