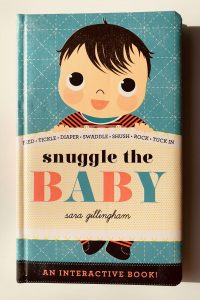 This book is so fantastic that I can't really do it justice in a mini review. It's beautifully illustrated, well thought out and a great interactive learning tool.
The book itself talks about babies – how to look after them, how to play with them and how to show them love. However what lifts this above other books about babies is the fact you can interact with the pictures and even take the baby and her bottle out of the book to play with.
Ivy loves getting the baby out and keeping it by her side – kissing her, talking to her, feeding her milk and rocking her back and forth – but she always makes sure that she puts her safely back to bed in the back of the book so she doesn't get lost.
Buy it now: http://amzn.to/2BmgMQK