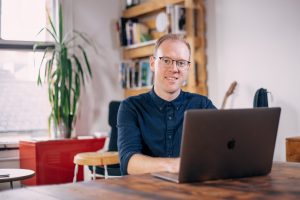 Tell us a little bit about yourself and your family
My name is Jon Richards. I am a Brand Identity Designer and along with my business partner Dan, we are Obladee. I live in Swindon with my wife and two young children, Emily aged 3 and Alice aged 1.
When our eldest daughter Emily was born, a friend gifted us a Hairy Maclary book along with the advice of reading a book everyday before bed from the day they are born and we have done so ever since.
What are your daughters' favourite books?
Emily's favourite book at the moment is Mr Magnolia, I think it is a combination of the great illustrations of Quentin Blake and the funny rhymes. This is also the first book that she memorised and would 'read' to us. Alice's favourite is Calm Down Boris! by Sam Lloyd, which was a Christmas gift. She loves the fact that he moves and tickles her.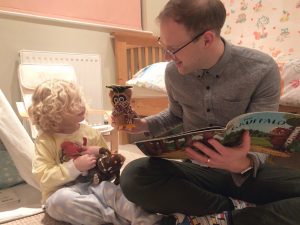 Which book do you most like reading to them?
I enjoy reading The Gruffalo. It is always fun to come up with new voices for the characters or sometimes we take the book with us around the bedrooms upstairs where I hide cuddly toys of each of the characters. Both of the kids really enjoy it when we do this as it really brings the book to life.
Who is your favourite children's author and why?
I absolutely love Roald Dahl's story telling and sense of humour and I can't wait until our children are old enough to properly start discovering the books. We like his stories so much that both of their middle names, Matilda and Honey, are inspired by his characters.
What would you like to see more of in kids' books today?
Roald Dahl was great for having some really strong female characters, but I'd like to see more female characters in children's books, especially when it comes to books with animals as they always tend to default to being male.
What do you look for when shopping for a new book for your daughters?
For me, they always have to have great illustrations, I love the style of people such as Jon Klassen and Chris Haughton. I am also a sucker for rhyming books, so Julia Donaldson's are often the ones picked for story time. As we have relatives living in Spain we sometimes like to get bilingual ones from the library too, like Bear about Town/Oso En La Ciudad.

About Obladee
I am one half of Obladee (like that song by The Beatles). We are a brand identity design studio based in Swindon, Wiltshire, creating design solutions together since 2008.
We love working together to make identities, graphic design, and generally getting our creative minds into the heart of companies we work with. Turning peoples business and passion into something using design is great and we create everything needed to take brands to the next level and ultimately to be more successful.
https://www.instagram.com/obladeeltd/
https://twitter.com/ObladeeLtd