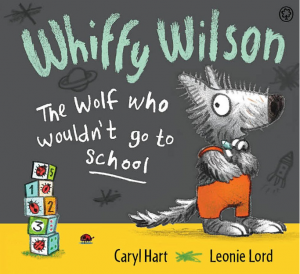 Whiffy Wilson is a little wolf who refuses to go to school. He doesn't want to sit in a boring old classroom and learn his ABCs. He'd much rather stay at home and watch TV because that's much more fun! This may sound a little naughty but Whiffy isn't really a bad little wolf. Deep down he's scared of going to school because he doesn't know what to expect and he's worried about getting things wrong.
This all changes when he pops next door one day and asks his friend to come and play. She's in the middle of getting ready for school and insists that Whiffy comes along too. She drags him in to class and shows him the ropes – and soon Whiffy finds himself having fun. He paints pictures, makes biscuits, plays football and even gets a gold star from the teacher for making a flying car.
By the end of the day Whiffy realises that school is nothing like what he had expected and his nerves had been unfounded. In fact, he can't wait to go again!
This lovely story is perfect for children who are apprehensive about starting school, especially those who haven't yet been in a classroom environment. The rhyme scheme is short and sharp which makes it fun to read out loud and adds to Whiffy's sense of excitement as he zips through the school day. The illustrations feel warm and welcoming and there are lots of happy smiling faces to help reassure your child.
Buy it now: https://amzn.to/2lJ6HLD
Interested in other books about starting school? Click here