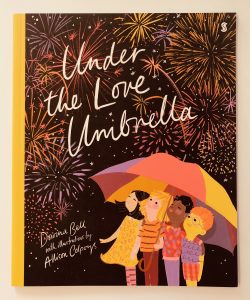 We are big fans of this brightly-coloured book which introduces the concept of a metaphorical  'love umbrella'.
The neon images throughout the story show a diverse group of children encountering situations out in the world which may make them feel sad or uncomfortable – like being afraid of the dark, feeling shy around other children, moving house or starting a new school.
The lovely rhyming text explains that even if the child is on their own,  their loved one is always with them 'under their love umbrella'. They may not always be physically present but they are right there with them in spirit to help them through, because of the strength of their love.
This is a really comforting read and it's definitely a good one to snuggle up with before bed. There are so many scenarios in which this book could be helpful to a small child – from being worried about being left at nursery for the first time right through to the loss of a loved one.
A note at the beginning of the book encourages you to try and spot all the umbrellas in the illustrations – a game which Ivy loves to play. She has even pointed out a real life 'love umbrella' – a father and daughter walking under a brolly in the rain!
The book is also great for starting a conversation about family and friends. Who's under your love umbrella?
Buy from Bookshop.org and support independent bookshops: https://uk.bookshop.org/a/155/9781925228977
Buy from Amazon UK: https://amzn.to/2zIpdXL
Note these are affiliate links and Ivy's Library will receive a small commission if you choose to purchase through them.