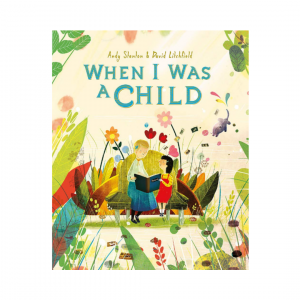 A little girl and her grandmother sit down together to look through a treasured book of memories. The grandmother explains what when she was  a little girl everything was magical – colours were bright, grass was ten feet tall, there was music everywhere and life was a celebration. But sadly as she has got older, life has got greyer and she doesn't think the magic exists anymore.
Upon hearing this, her granddaughter takes her hand and they lift up in to the sky. She takes her grandmother on a tour of the world as seen through her own eyes, and there is magic everywhere! They see faces in raindrops, listen to heartbeats in the mountains, dip their toes in to a river of seahorses and attend a birthday party for a flower.
Together they learn that the wonder of life doesn't fade as you get older – you just have to know where to look.
We LOVE this book! The combination of fantastical rhyme and vivid, detailed illustrations is absolutely spot on. It's one of those books that you can read through quickly or spend ages looking at the pictures and talking about what you can see. Our favourite part is the double page spread of raindrops. There are hundreds of them and every single one has a different facial expression, which Ivy finds fascinating!
Buy from Bookshop.org and support independent bookshops: https://uk.bookshop.org/a/155/9781444928860
Buy from Amazon UK: https://amzn.to/2HYGOjF
Note these are affiliate links and Ivy's Library will receive a small commission if you choose to purchase through them.
Disclosure: The publisher provided us with a copy of this book in exchange for an honest review.