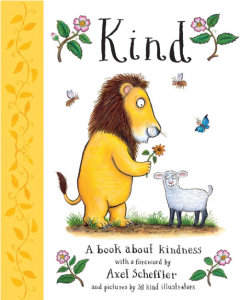 Every parent hopes that their child will grow up to be kind, and for that reason I think this book should be on bookshelves everywhere. It teaches children the value of kindness and the difference it can make to the world.
The tiniest little things can turn someone's whole day around and they cost you absolutely nothing – a smile, a hug, a hand to hold. The book asks children to think about what they can do to help those around them. This could be something as simple as carrying a bag, being a little bit patient or sharing your toys.
It also encourages kids to think about how others might be feeling. If there is a new person in their class then they might be nervous or scared, so how can they make it easier for them?
The overall message is that we never know what other people are going through so we should treat everyone with kindness. The world is full of many different types of people and we should always be open to learning about different countries and cultures so that we can understand each others experiences.
The beautiful sentiment is complemented by illustrations from 38 great talents, each of whom donated their time for free. (£1 from the sale of each printed copy goes to the Three Peas charity, which gives vital help to refugees from war-torn countries). Every page is different and we've enjoyed spotting illustrations from some of our favourites, mixed in with ones we weren't previously aware of.
This is currently one of our most read books, and it's top of my list as a gift for births and christenings. If you've been thinking about purchasing a copy then DO IT! Especially as it's for such a good cause.
Buy from Bookshop.org and support independent bookshops: https://uk.bookshop.org/a/155/9780702303470
Buy from Amazon UK: https://amzn.to/2EEm6U4
Note these are affiliate links and Ivy's Library will receive a small commission if you choose to purchase through them.