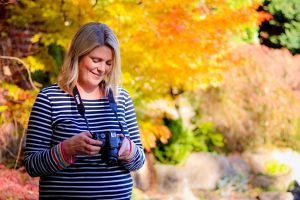 Tell us a little bit about yourself and your family
I'm Hannah, Wife, Mummy, Photographer and HR person! I live in Wetherby, Yorkshire and I absolutely love the fact that I'm close to the countryside but not too far away from the city! I have two lovely children – Thomas is 5 and Ellie is 3….and a Labrador called Lottie, aka my 3rd child!
What are your children's favourite books?
Thomas absolutely loves Superworm by Julia Donaldson – he's completely fascinated by all things wildlife and creepy crawly stuff at the moment. Ellie loves fairy tales and her favourite story is Goldilocks and the 3 bears as it features a cheeky little, curly blonde haired girl, just like her!
Which book do you most like reading to them?
I love the Snail and the Whale, another Julia Donaldson – it carries the message that the world is big and to be explored, but that it's the tiny snail who saves the day in the end when the whale gets beached in the bay. I just find it really easy to read and the kids find it fascinating!
What was your favourite book when you were a child?
Roald Dahl's Matilda. As a kid, I was a quiet little bookworm, always happiest when I was either reading or writing stories. I loved the way she stood up to the meanie grown ups! I didn't have any meanie grown ups, but other kids could be mean – I found her empowering.
Who is your favourite children's author?
Difficult to choose, because one of my favourite things to do was go to the library and sit reading book after book after book, but if I had to pick one I'd say Roald Dahl. – I could read his books over and over and can't wait until my kids are old enough to understand. I've got the book of Revolting Rhymes and Dirty Beasts at my Mums actually, which I must retrieve, as I think Thomas would find it hilarious.
What do you look for when shopping for a new book for your child?
Something that has a meaningful message, variety, relatable characters.
Do you have a favourite children's bookshop?
I love the Little Ripon Bookshop. It's in a small town about 30 mins from me, and I love supporting independent. They will order any title in and nothing is too much trouble – plus it's a really visually appealing shop with a fab little kids area. About Hannah Brooke Photography
I use an informal and candid style of photography to capture and document your important moments, milestones and memories. I'm known for my ability to put people at ease and I like to spend time getting to know my clients before I start snapping. I will capture plenty of authentic moments, action shots, emotion and expressions for you. And I promise there won't be an awkward pose in sight!
I absolutely love photographing people and capturing candid moments, emotion, and joy. Weddings and family photographs are what make my heart sing. As a small business owner, I also understand the importance of personal branding photography, and I'm also a fan of providing really lovely authentic headshots.
I set up my business because I was always the one behind the camera, and I was never in the photographs with my children. I know this is the case for many other parents. You want natural snapshots with your families, but there is no one to take them. So your phones are full to the brim with selfies and blurry action shots that you're unsure what to do with. We live in a fast-paced technological world where everything is digital but I love to help my customers get their photographs displayed visually.  They can be made into wall art, photobooks or gifts for the wider family. After all, isn't that the point of photographs, to create a daily visual reminder of your happy moments?
I have been taking photographs and documenting my whole life since I was old enough to be trusted with a camera, and became brave enough to turn my passion into my profession in 2017. I have 2 small, whirlwind children of my own and a slightly bonkers Labrador and understand all too well how quickly the time passes. We love getting out and about in the fresh air and not taking life too seriously.
You can see my latest work here:
www.hannahbrookephotography.co.uk
www.instagram.com/hannahbrookephoto