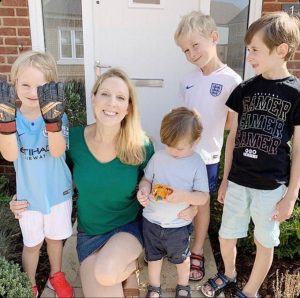 Tell us a little bit about yourself and your family
Hi, I'm Jess and I live in Tonbridge, Kent with my lovely husband and our four sons Gabriel (8), Flynn (7), Theo (5) and Jude (2).  I work as a social media manager and when the boys aren't keeping me busy I blog about family life with my boys at abouttheseboys.co.uk.
What are your sons' favourite books?
Books are a huge part of our lives and we have them everywhere!  Gabriel and Flynn have grown out of picture books so I'm spending as much time as possible reading them to Theo and Jude, as I know how quickly this special time will go.
At the moment Jude's favourite book is Supertato by Sue Hendra.  He was given it by his Auntie on his second birthday in February, and we've been reading it nearly every days since!  Jude loves his food so is very appreciative of the bright, playful storyline and illustrations – he has a lot of fun pointing out all the veggies and freezer foods.  And thanks to Supertato, Jude is obsessed with peas and potatoes!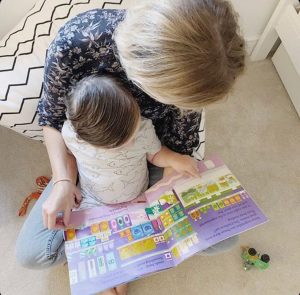 Which book do you most like reading to them?
I love reading Oliver Jeffers' books to the boys because his stories are so simple and heartfelt, and his illustrations just gorgeous.  "Here we Are" is very special and makes me emotional to read – it talks about how incredible Earth is and what it means to be a human on this planet.  Its message is as beautiful as the images.   And it appeals to all my boys on different levels – Jude loves the pictures and his big brothers love reading it too.  It really is a book that we'll treasure as a family for many years to come.
What was your favourite book when you were a child?
It would have to be the classic The Very Hungry Caterpillar by Eric Carle.  I remember my mum reading it to me at bedtime when I was very little and it's been a real joy seeing my boys fall in love with the story too. It's such a wonderfully simple concept and really captures little ones' imaginations.  Jude has a copy of The Hungry Caterpillar's Birthday Party and gets very excited when he sees the birthday cake!
Who is your favourite illustrator?
It has to be Axel Scheffler – his stories are all over our house – from Jude's noisy bath time books and Flip Flap Safari to most of his stories with Julia Donaldson.  His illustrations make the boys laugh and make looking at his stories a pleasure to read.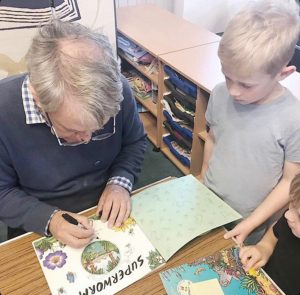 Last year we were lucky enough to attend a talk with Axel Scheffler as part of Sevenoaks Literary Festival.  Axel read from some of Julia Donaldson's books, drew her most popular characters and talked us through his creative process. And at the end he signed books for all the children – I had taken four books along and he was kind enough to write a message to each of the boys and draw them their own book character.   Jude has his own Gruffalo illustration!  I'm looking after the books until the boys are older.
Last month we had the pleasure of meeting David Litchfield at woodlandsfestival.co.uk and discovered all his wonderful stories.  We are enjoying reading 'The Bear and The Piano' at the moment.
What do you look for when shopping for a new book for your child?
A great book will create magical memories for children to remember for a lifetime, and I don't think there's anything more special than sitting down together with a good book.  We are spoilt for choice nowadays – there are so many wonderful titles out there.
I try to choose picture books that have a moral or teach the boys about others outside their little worlds.  And with four boys, I'm very conscious about showing them healthy male and female role models – I want them knowing that boys can be sensitive and nurturing (not just superheroes!) and that girls are also adventurous and fearless.  Even with picture books it's important to get this right.  We love Julia Donaldson's Zog and The Smartest Giant in Town for this reason.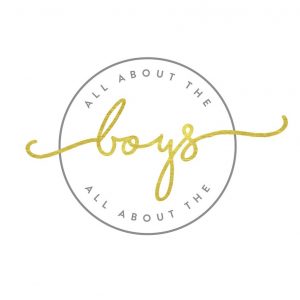 Jess's blog All about the Boys can be found at facebook.com/abouttheseboys, instagram.com/abouttheseboys and twitter.com/abouttheseboys. 
Her website is abouttheseboys.co.uk