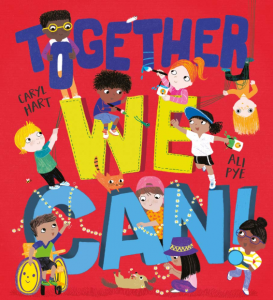 Since Ivy started nursery in January we have had lots of conversations about friendship, and this gorgeous book from Caryl Hart and Ali Pye has helped pull all of those strands together.
The gentle rhyme explains what friends are and what you can do for each other to make your days a little brighter. From helping each other in the classroom through to scratching an itch they can't reach, we see a diverse group of children revel in the company of their friends.
Sometimes friends are very similar to you and sometimes they're different. Sometimes they live close by and sometimes they live far away. Whatever the nature of your friendships, we see that they enrich our lives in many different ways.
The reader is encouraged to make new friends (especially with children who may seem lonely or sad) and the story suggests different ways in which you could do this, like asking them their name, inviting them to join in a game or helping them when they seem stuck.
Ivy and I have really enjoyed reading this together as it's very uplifting and the illustrations are fantastically bold. We've spent lots of time looking at the pictures and spotting the characters who look like her own friends and it's also sparked a discussion about what it means to be a good friend to those around you.
This book is released on August 1st and is available to pre-order now. I would definitely recommend it, especially if you have a small child starting school or nursery who may be nervous about making new friends.
Buy it now: https://amzn.to/2OzaDN1
Disclosure: The publisher provided us with a copy of this book in exchange for an honest review.