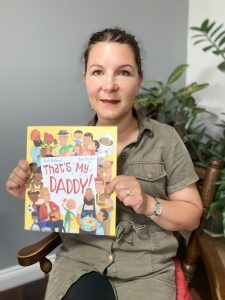 Hi Ruth! Thank you so much for chatting to me about your latest book 'That's My Daddy!''
Could you give us a quick overview of what the book is about?
It's all about daddies and is a celebration of them everywhere, in all shapes, sizes and forms. We wanted to encourage children to identify their daddies in a fun and interactive way. It covers everything from favourite foods, what they're like in the morning, to jobs and hobbies and what they do around the house. Hopefully it's silly and fun but also a really nice book to share and talk about what your daddy is like.
What inspired you to write this story?
I came up with the idea for That's My Daddy when I was out running one day, one of the lines popped into my head and it developed from there, it was initially called The Daddy Catalogue! I did a first draft of the text and left it in my collection of unpublished stories for about six months. Then I happened to glance at it and thought there is something here so I sent it out on submission to a couple of publishers.
I love how there are so many different types of dads featured in the book. Did you give the illustrator, Dan Taylor, any guidance on what you wanted to see from the different characters, or did he have free rein?
Dan Taylor's illustrations really have made this whole book come alive – it's wonderful to see. I did some really bad drawings initially when we were developing it, to show my publishers how I thought it might be laid out, but I sincerely hope they didn't show them to Dan! He pretty much had free rein but we did stress that we wanted every child to be able to find something to match to their daddy and as many different varieties as possible – without making them sound like fruit and veg!
Have you always wanted to be a children's author?
The short answer is YES! More than anything else I've always loved reading and particularly had a fondness for children's books. I've always loved writing and for the last ten or so years I've been writing picture books and a few chapter books. There are a lot of discarded ones but sometimes you go back to something and think 'there's something here' and that's really exciting.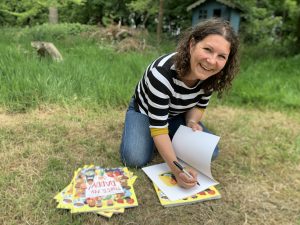 As well as writing picture books, you are also an editor. What do you think makes a great children's book?
An original take on an idea and a fresh voice. With picture books the text needs to work beautifully with the images. What's amazing about children's books is the breadth of subject matter you can cover.
What is the best bit about your job?
As an author I think it's a combination of having (what I think is) a brilliant idea and then managing to flesh it out into a full book. That feeling of sitting back and having a finished product, whether it's publishable or not, is really special.
As an editor it's working with some brilliantly creative and talented people. Some of the designers I've worked with have been so incredible, I'm in awe of them! Children's Publishing is full of some really wonderful people.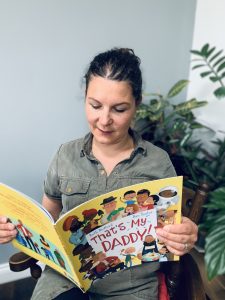 Do you recall your favourite picture books from when you were a child?
I was a voracious reader as a child. Favourites were I Capture the Castle by Dodie Smith and Madeleine L'Engle's books. I also remember pouring over the Richard Scarry Busy series and really enjoying the Brambley Hedge books by Jill Barklem. I really remember visiting libraries every week to get books out, I'd never have read as much as I did without being able to do that.
Thank you so much for taking the time to talk to us! If any of our readers want to find out more then where can they find you?
My book is available through all the major channels – Amazon, Waterstones, Blackwells and also the independent bookshops, I've been buying a lot through hive.co.uk over this period of time and it's great because it supports your local independent bookshop.
I'm on twitter as @root_toot and facebook under Ruth Redford Editor and Writer
You can read our review of 'That's My Daddy!' by clicking here.