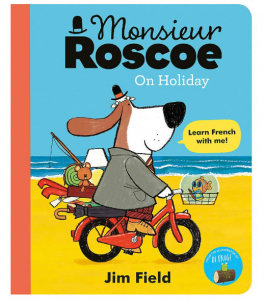 I studied French at university so I am really keen for Ivy to learn some basic words and phrases whilst she is small. This brand new book from Jim Field – his first as both author and illustrator –  is absolutely perfect for that!
Monsieur Roscoe is a friendly little dog with a pet goldfish called Fry. The pair are about to set off on the holiday of a lifetime to visit some friends, but first they have to pack. As they throw all of the things they need in to a suitcase we see that each one is labelled on the page in both French and English. This continues throughout the book, giving your child the opportunity to learn lots of new French words.
Once packed they say goodbye to their friends and set off on their adventure. They get stuck in traffic on the way to the train station, which gives us the opportunity to learn the words for different kinds of vehicles and the names of the many shops they pass.
The first stop on their holiday is a campsite, where they learn how to put up a tent with their friend Eva the bunny, then they head to the mountains to ski with Stan the squirrel. Next up is a boat trip on a beautiful lake with Caro the fox, followed by a day on the beach with piglets, Jojo and Didi. At every location we see a gorgeous double page spread filled with simple French vocabulary and beautifully detailed illustrations.
After all this adventure, Monsieur Roscoe and Fry are super hungry so they head to a restaurant and teach us the words for different kinds of food, then they head back home and say 'Bonne Nuit' to us all.
Ivy has been utterly captivated by the illustrations and she's been testing out her newly learned vocabulary since the book arrived. We visited France with her when she was 6 months old but I think it might be time to take her back and let her practise what she has learned!
This book is published in the UK on July 9th, 2020 and is currently available to pre-order.
Buy it now: https://amzn.to/2DbVnAg
Disclosure: The publisher provided us with a copy of this book in exchange for an honest review.