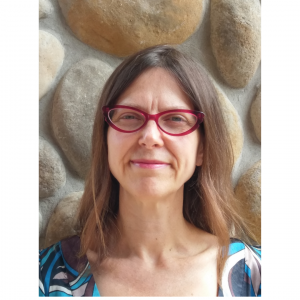 Hello Rebecca! Thank you so much for chatting to me about your new book 'Beatrix and her Bunnies'.
Hello Ivy and Shelley! Thank you both for inviting me.
Could you give us a quick overview of what the book is about?
Beatrix Potter loved the countryside, but grew up in a big, lonely house in London which she filled with animal friends. This narrative non-fiction biography follows her relationship with two of her pet rabbits, Benjamin and Peter, and how they provided inspiration for her artwork and for her first book, The Tale of Peter Rabbit. It also follows her development as a writer and artist, as well as her pioneering role as a conservationist.
What inspired you to write this story?
I love reading biographies and learning about people's lives, their accomplishments and the psychology behind their development as a person. Beatrix' story appealed to me primarily because she is such a well-loved children's author and because I wanted to know the inspiration for her own books. Once I discovered that inspiration, I wondered why no one else had ever written about her rabbits. She had many rabbits over the years, but I kept the focus on the two that provided the most inspiration for her work.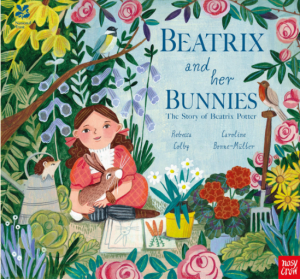 Prior to reading your book I had no idea that Beatrix Potter had done so much work with the National Trust! You've now published two books in collaboration with them – 'Beatrix and her Bunnies' and 'The Castle the King Built' – what do you like most about working with this organisation?
The support from both the National Trust and Nosy Crow has been fabulous! They work in collaboration, and for me, this is truly the best of both worlds. Nosy Crow consulted on the manuscript and artwork, while the National Trust consulted on the accuracy of the research. While I haven't had much direct contact with the National Trust, they've championed my books and produced the following article in advance of the release of Beatrix and Her Bunnies: https://www.nationaltrust.org.uk/blogs/books-blog/discover-the-real-story-behind-the-tale-of-peter-rabbit
Have you always wanted to write children's books?
I'd always aspired to write a book but it wasn't until after my children were born that I considered writing for kids. I read picture books to my daughters from babies–from before they could understand what I was saying, until well after they were capable of reading to themselves. Reading to them helped me fall in love with children's books all over again and inspired me to write for a child audience. (I suppose it helps that I've never completely grown up and still perceive much of the world with my seven year old mind!)
In your book we see Beatrix be knocked back many times before she finds herself a publisher for 'The Tale of Peter Rabbit'. As an author, how does it feel when you send your own work out into the world?
Sending work out is always exciting. It's the rejections that sting!
Beatrix was rejected six times before she self-published with success. This later led to a contract with a traditional publisher.
Dare I admit, my own journey to publication involved 140 rejections over 7 years before an editor said, "Yes." Even now, as an established children's author, rejections still come in.
The important thing to remember is that publishers are rejecting the work, not the author. And the reasons for rejection aren't necessarily because the writing is poor. Decisions come down to editors' tastes, commercial potential and not wishing to release anything too similar to what is already on a publisher's back list.
What do you think are the key ingredients for a great picture book?
The one, absolute key ingredient is re-readability.
But there are many factors that ensure a book engages its audience enough to be read more than once. Some of these include:  loveable characters, humour,  universal appeal and the interplay between words and illustrations.
I'd like to think that the illustrator, Caroline Bonne-Müller, and myself have produced a book that children and adults will return to many times.
Do you recall your favourite picture books from when you were a child?
My family didn't have money for books when I was a child, but thankfully we visited the library regularly. Anything by Dr. Seuss was preferred, and The Lorax was my favourite. I loved it so much that I hid it under my bed so that my mother wouldn't return it to the library. She eventually got me to confess where it was, and to my great joy, renewed it for me.
Another favourite was the George and Martha series by author/illustrator James Marshall. These books depict the friendship of two hippopotami in a humorous fashion.
Thank you so much for taking the time to talk to us! If any of our readers want to find out more, where can they find you? 
Thank you again! It's been my pleasure! Your readers can find me on Twitter at @amscribbler or at my website at www.rebeccacolbybooks.com where there are FREE colouring pages and activity guides to download on the "Teachers" tab.