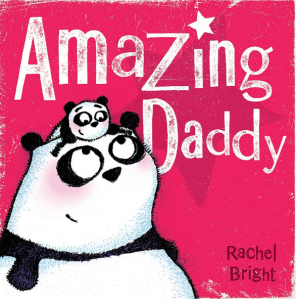 The little panda in this story thinks her Daddy is simply amazing! He makes her yummy food, he loves to snuggle and he smells like 'safe and warm'.
The gorgeous rhyme follows the pair as they go through their day. To an observer, nothing they do is extraordinary – they eat, they play, they have a bath – but to the baby panda every little moment is special because she gets to spend it with her Daddy.
We love this one because of the gorgeous illustrations and the cheeky humour. There are lots of fun details hidden in the pictures – keep an eye out for Daddy's aftershave –  'Old Panda Spice' – and the very important pieces of paper on the table in Daddy Panda's office!