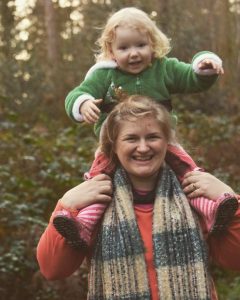 Tell us a little bit about yourself and your family
Hello! My name is Kate but I am also known as The Muddled Mum because, well, my mind is a bit of a muddle. I live in Dorset with my wonderful husband and 2.5-year-old daughter. My daughter is also called Ivy – a name I didn't realise was so popular until I started going on Instagram!
What is your daughter's favourite book?
Ivy has many favourites that get rotated around. Her current favourite is Lunchtime by Rebecca Cobb. I bought it to see if I could encourage her to eat more and it worked! She knows most of the pages off by heart and likes repeating phrases like 'a nice clean plate', and 'revolting!' The illustrations have a certain innocence to them and Ivy often says that she is the little girl.
Which book do you most like reading to her and why?
I love reading The Paper Dolls by Julia Donaldson. It is illustrated by Rebecca Cobb (the author of Lunchtime) so it has the same innocent, fun feel to it. We have a tune that we made up for the song and so it's fun to sing along together. There's also plenty of opportunity for putting on voices and making silly faces which makes reading stories so much fun. I also haven't managed to read this book without welling up at the end. It's a beautiful story that after many, many renditions I still enjoy.
What was your favourite book when you were a child?
I loved the Giant Jam Sandwich. There is a picture of a whole bakery being filled with pillowy dough as they try to make a giant loaf. Something about that image really captured my imagination as a child!
Who is your favourite illustrator and why?
Quentin Blake. There are so many wonderful illustrators out there, but Quentin Blake illustrated my imagination as a child. There is something so jolly and joyful about his characters. His book, Fantastic Daisy Artichoke, still makes me smile flicking through the pictures.
What do you look for when shopping for a new book for your child?
I like books that spark my imagination – if I can think of activities to do related to the book, or voices I could use, it is usually a good sign that it will sparks Ivy's imagination too. There is something so wonderful about creating your own fictional world in your imagination.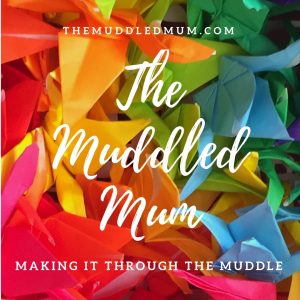 About Kate
I blog at http://themuddledmum.com – and talk about miscarriage and mental health in an open an honest way. It's time to break the silence and the stigma. Of course, I also spent much of my time raising my little Boo Bear so you will find plenty of fun antics and my views on motherhood there too!