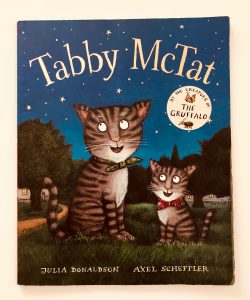 We have been reading Tabby McTat to Ivy since she was about 6 months old and it's still one of her all time favourites. When she was tiny she was just drawn to the illustrations of the cats (one of them looks a little like ours) but now she's older she loves the story and knows the little song off by heart!
Tabby McTat is a scruffy little street cat who belongs to a busker. He loves his life wandering the streets of London with his owner, and he enjoys singing along when the busker performs. An unlucky chain of events result in the two friends being accidentally separated and McTat ends up living with a girl cat called Sock.
Sock and McTat become the best of friends and soon they end up with a small litter kittens. McTat loves his cosy new life but he never forgets the wonderful busker. One day he decides that he simply has to find out what happened to him so he kisses his little family goodbye and sets off in search of his old pal. 
It's a happy day when he finds him – but what happens when he starts to miss Sock and the kittens?
This is a gorgeous book about friendship and family, with a little singsong thrown in for good measure!
Buy it now: https://amzn.to/2KgqOXS