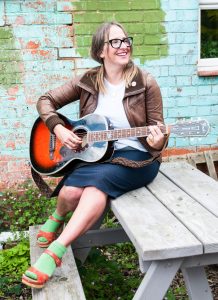 Hi Cat! Tell us a little bit about yourself and your family
I'm Cat Bateman, a mum of two very energetic & football-mad boys, 11 & 8. I met my husband 26 years ago (I know! I am that old!) and I have a business called Little Folk Nursery Rhymes. I hold weekly sessions singing nursery-rhymes to lovely little customers accompanied by my guitar. I completely love singing and sharing music and am passionate about spreading the word about Type 1 Diabetes as my eldest boy was diagnosed when he was 5 years old.
What were your sons' favourite books when they were small?
I will answer all the questions from my memories of what they loved when they were your demographic of 0-5 years – I have totally enjoyed digging these books out and taking another look at them – haven't been able to get rid of any of them in the constant battle to reclaim the house from the children's stuff as they hold such gorgeous memories.
When our boys were up to 2 years old respectively they both adored the Giles Andreae and Nick Sharratt 'Pants' and 'More Pants' books – sounds a bit daft but just pages of descriptions of different types of funny made-up pants 'Red pants, green pants, Yellow submarine pants, Dancing with the Queen pants La la la!' and so on! The rhyming is genius, we always kind of sang the words out and all the illustrations are just gorgeous and colourful – we read it 100s of times! Just brilliant stimulation for their little brains and so many vocabulary words to pick up on and explain and learn.
When they were a bit older around 5, I couldn't choose a favourite really from the stunning Julia Donaldson and Axel Scheffler series with Tabby McTat, Charlie Cook's Favourite Book, A Squash and a Squeeze but slightly edged out in front possibly was The Smartest Giant in Town – just a beautiful message of being kind to everyone you come across! And again beautiful rhymes and rhythms and illustrations.
Which books did you most like reading to them?
I don't know if the author is ever named, it's one of the old Ladybird books in the 'Well Loved Tales' Series – The Elves and the Shoemaker – it was my all-time favourite book when I was about 8 and I just wanted to pass it on to my kids. It is so magical and charming and again all about being kind to everyone!
What was your favourite book when you were a child?
My favourite book when I was little, can't quite remember being 5 I don't think but not much past that, was the Mrs Pepperpot Series and the My Naughty Little Sister books – showing my age here!
What would you like to see more of in kids' books today?
Definitely more books with strong role models for boys and girls  – I know I would have absolutely loved Suzanne Hemming's 'She's Not Good For a Girl, She's Just Good!' when I was little – I was a little bit of a feisty feminist waiting to get started!
Do you have a favourite children's bookshop? 
I think we are so well-served in South East London for gorgeous bookshops. I love Rye Books in East Dulwich, Bookseller Crow on the Hill in Crystal Palace and on my doorstep is the wonderful Kirkdale Books – always welcoming and helpful and really a part of the community; the whole family loves browsing in there and of course, they have a great selection of books of every kind – the fact that it has been passed down from Father to Daughter and has been there for many, many years adds to the romance of it all!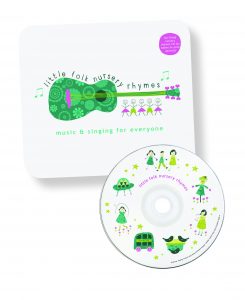 About Little Folk Nursery Rhymes
My smallbiz is basically me playing my guitar and singing nursery-rhymes to lovely little customers and their exhausted parents in quirky, fab venues around my local area SE26 and a bit further out if I can leg it back for the school run! I started Little Folk Nursery Rhymes in 2011 when I was sort of coming out of the bedlam of having two babies fairly close together – I needed to earn some money! I'd been helping lead (my stint was a year or so) a long-established, gorgeous voluntary singing nursery rhymes group and a few of the lovely mums said I should do something like that as my own thing and that's where the idea started! I was chuffed to bits when people actually turned up to my first ever group and now I have 7 or so groups a week, sell a CD and have just released a fun finger-puppet version of the 5 little ducks song and there are some exciting projects to come around the corner. I really am passionate about sharing singing and music and have also discovered that with the onset of all this modern social media stuff (I am such a technophobe!) that I have a small platform to spread the word about Type 1 Diabetes, my eldest boy has battled this extremely difficult to manage condition for 6 years now and I love myth-busting and sharing information about it – knowledge is power and all that!
My social media bits and bobs:
Website:  www.littlefolknurseryrhymes.com
Instagram @littlefolksing
Facebook: Little Folk Nursery Rhymes
Twitter @littlefolksing