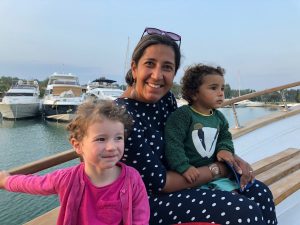 Tell us a little bit about yourself and your family
I'm Natalie, I grew up in Oxfordshire but now call London home with my husband and daughter Matilda (4) and son Jasper (2).  I love to travel and have been lucky enough to combine a hobby with my job as a marketing director for the last decade. Whilst pregnant with my son I was made redundant, so I now run my own business as a travel consultant where I help families find the best possible option for their trips. I didn't want having a family to stop me exploring the world and love helping others when they are planning adventures whilst affording me flexibility to spend time with my children.
What are your children's favourite books?
My son's favourite book is The Everywhere Bear by Julia Donaldson. He loves shouting out the last word on every page, or trying to anyway. We've read it so often my daughter can recite it word for word to her brother. It's such a sweet story too.
My daughter's current favourite book is The Bumblebear by Nadia Shireen.  Another one she has memorised, it's a really sweet story about not fitting in and the changing of attitudes over time.  It also gave us the phrase "What the jiggins!?" which my daughter pulls out at wonderfully comically timed moments.
We are a real family of book worms and I'm constantly having to stop myself buying new books. I'm a big fan of our local library and feel very lucky our children's librarian is so passionate too. The children and I have learnt about so many fabulous authors from him.
Which book do you most like reading to them and why?
The Paper Bag Princess by Robert Munsch. I love this book because it's funny and unexpected. It teaches a valuable lesson without spoon feeding Disney-esque morality: it assumes that even a young audience can grasp its meaning and doesn't talk down to them. Not to say there is anything wrong with Disney, I just feel like there is a place and a time for it (we LOVE Dumbo and Moana and Frozen….) and I want my children to have a rounded view of the world.
What was your favourite book when you were a child?
The Jolly Postman was one of my favourite books as a child and I was lucky that my parents kept a copy that my children now have. I loved following the postman's journey stopping off at the familiar fairy tale characters.
Who is your favourite illustrator and why?
We love Rebecca Cobb's work in The Everywhere Bear and in The Paper Dolls. She has a way of making the whole page magical and yet her attention to finer details (look at the book covers in the library in The Everywhere Bear for example, or the book the teacher reads to class) makes repeat visits a must.
What do you look for when shopping for a new book for your children?
Books with a creative comedic twist e.g: Oi Dog! Or books with strong female characters rather than caricatures of gender stereotypes. Vibrant stylised artwork is also key for me to keep short attention spans intrigued.
Which character in children's literature do you think is the best role model for kids, and why?
I'm a huge Harry Potter fan and cannot wait to read those to my children but until they are old enough I think I have to go for Shifty McGifty and Slippery Sam: two inept robbers who redeem themselves and now solve crime instead.  Showing my children that there is such a thing as forgiveness and redemption in the world sends a strong message and the fact that the dogs are daytime bakers too is I think unique in the crime-fighting genre!
What would you like to see more of in kids' books today?
Funny stories with twists that charm enough to keep an audience going back for repeat visits.  Children love repetition but it's the adults who do the reading to the younger audience, so having a great story and artwork helps make the experience more enjoyable all round.  I also really value the rounded picture of the world I've mentioned but without underestimating children's ability to absorb complex information and topics.  The Paper Dolls is so charming and deals so subtly with loss, growing up and the concept of treasured memory that I have to admit brought a few tears to the older eyes!
Do you have a favourite children's bookshop? 
We tend to get most of our information/recommendations from the Library and then either go to Foyles or Waterstones as our local book shop, Village Books on Wandsworth common, sadly closed down some years ago.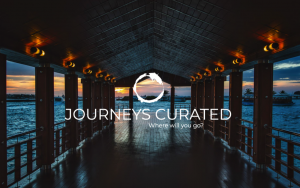 About Journeys Curated
As your dedicated journey curator, I offer a truly personalised travel service. After understanding your holiday habits and needs, I will curate, book and manage every element of your family holiday, ensuring every step is taken care of with expertise and attention to detail from the moment we chat to the moment you return from your trip. With a focus on excellent service, combined with my insider knowledge of the travel world, I will ensure every family holiday you take is an unforgettable experience.
www.journeyscurated.com
https://www.facebook.com/journeyscurated/
https://www.instagram.com/journeyscurated/